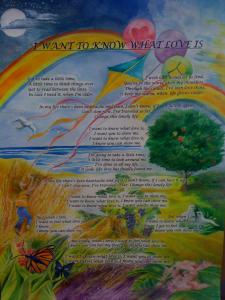 FOR IMMEDIATE RELEASE Irene Bowers
bowersi@aol.com

HUSBAND COMMISSIONS WATERCOLORED MEMORIES OF MARRIAGE
Local Beach Artist Kandy Cross Creates Inspiring Commissions for Beach Couple


Virginia Beach, Virginia - February 13, 2011- Inspired by the lyrics of Foreigner's "I Want to Know What Love Is", Beach resident
Robert Branyan decided to commission local artist Kandy Cross to paint memories of marriage to his wife, Millie. The artwork
consisted of a painted series of symbols. "Each of the symbols means something about us," Branyan said." The child running with
open hands symbolizes an acceptance of the world's miracles, and a...